High Difinition Realtime H.264 Encoding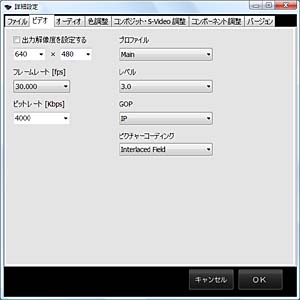 Equipped with H.264 hardware encoder which enables high-definition such as;
-H.264 encoding of Maximum 1920x1080p
-Support H.264 high profile including MBAFF
-Space filter
-Edge-preserving noise-reduction filter
-Motion adaptive time filter

Also offers options to set bit-rate, GOP, AGC and color.


Wide Variety of Video Input Terminal

-Digital input --- HDMI
-Analog input --- Composite, S Video and Component (YPbPr) RCA
I enables degitalization and high-definitionize of video which is captured in realtime from video camera or recorded analog video material.


Other Main Features

Easy and user-friendly interface which helps smooth video capturing.

Control button pops up when the cursor is on prevew-window.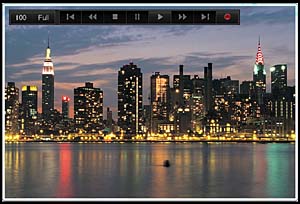 Encoding Profile for iPod & iPhone
profile for encoding which enables you to capture video of H.264 format for iPod and iPhone, only by choosing pre-set profile.
iPod classic 120GB / iPod touch / iPhone 3G/3GS
*as of 21. Apri. 2010

Compliant with transcoding from MPEG2-TS to MP4(H.264).
*Transcording file which protected by copyright is not supported.
Synchronous Video-recording
Starts recording video when detecting video signal, and stop recording when the video signal is intermitted.
This function enables starting and stopping recording by setting timer of input device such as recorder or set-top box.
AC Adapor is not necessary as it run by USB bus power.


Hardware Specification
Overall Size
155 x 120 x 30 (mm)
Weight
About 220g
Power Source
USB bus power
Video Input
Composite
S Video
Component (YPbPr) RCA
HDMI
Audio Input
Stereo RCA/HDMI
Interface
USB2.0

Functional Specification

| | |
| --- | --- |
| Video Compression Format | H.264 |
| Audio Compression Format | AAC |
| Maximum Resolution | 1920x1080 |
| Profile | Baseline/Main/High |
| Video Bit-rate | 256k to 16Mbps |
| Frame Rate | 15 to 30fps |
| Picture-coding | FRAME/FIELD/MBAFF/PAFF |
| Audio Bit-rate | 64 to 384kbps |
| Audio Sampling | 48KHz |
| Output-file Format | MP4 |
| Color Adjustment | Contrast / Brightness /Hue |
| HDMI-input Resolution | Maximum 1920x1080p |

System Requirement

OS
Windows(R)7( 32Bit/64Bit) / Windows Vista(R)( 32Bit/64Bit)
/ Windows(R)XP(SP2 or above, 32Bit)
CPU
Intel Core i5 Processor 2.4GHz or above (when 1080p)
/ Intel Core 2Duo Processor 2.4GHz or above (when 720p)
Main Memory
more than 1GB (more than 2GB is recommended)
Sound
Audio device and speaker which compliant which is compliant with DirectSound
Hard-disk
need to record video
CD-ROM Drive
need to install Driver/ Application

Contents of package

MonsterHD 264 Main unit x1
Driver / Application CD-ROM x1
Instruction x1
Warranty Card / User Registration Card x1
USB Cable x1

Model Numver ・JAN code

| | |
| --- | --- |
| Product Name | Monster HD 264 |
| Model Name | SK-MHD264 |
| JAN Code | 4515692002097 |